The Coronavirus Aid, Relief, and Economic Security Act (CARES Act) has authorized significant funds under the SBA's 7(a) loan program through the Paycheck Protection Program and the Emergency Economic Injury Disaster Loan program. As many small businesses develop their plans to address the impacts of COVID-19, we are supplying a comparison of these two programs.
On April 23, 2020, Congress approved additional funding to the Paycheck Protection Program following the exhaustion the program's original $349 billion in funding on April 16.  This second funding round totals $310 billion.  This $310 billion includes $60 billion that is separately designated for distribution by smaller depository institutions, credit unions, and community financial institutions.  The Economic Injury Disaster Loan program received additional funds totaling $60 billion, including $10 billion for purposes of the EIDL grants.  As of May 10, 2020, approximately $189 billion of the second round has been committed.
The SBA continues to issue Interim Final Rules and guidance concerning the Paycheck Protection Program and is doing so at a very frequent pace.  Borrower should understand that the SBA's Frequently Asked Questions ("FAQs") clarify that the program's rules concerning eligibility and the application that were in place at the time the borrower applied will govern the borrower's application.  As of May 11, 2020, additional guidance concerning forgiveness and the "necessity" certification made at the time of applying for a loan remain outstanding.  For updates on the additional guidance please see our articles in our Preparing for an SBA PPP Audit Series.
Click here to view our PPP/EIDL Comparison Chart.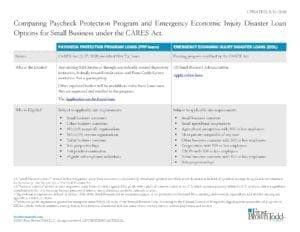 Other Paycheck Protection Program (PPP) and Emergency Economic Injury Disaster Loans (EIDL) articles: 
---
For more information on the Paycheck Protection Program, Emergency Economic Injury Disaster Loans, and other financial assistance available to businesses under the CARES Act, please contact Shannon Kuhl, Becky Moore, Jana Syrcle, Adam Okuley or any attorney in Frost Brown Todd's Finance Practice Group.
To provide guidance and support to clients as this global public-health crisis unfolds, Frost Brown Todd has created a Coronavirus Response Team, including a special team focusing on SBA funding options under the CARES Act. Our attorneys are on hand to answer your questions and provide guidance on how to proactively prepare for and manage any coronavirus-related threats to your business operations and workforce.